Back
September 2019
Scaling LPG for cooking in developing markets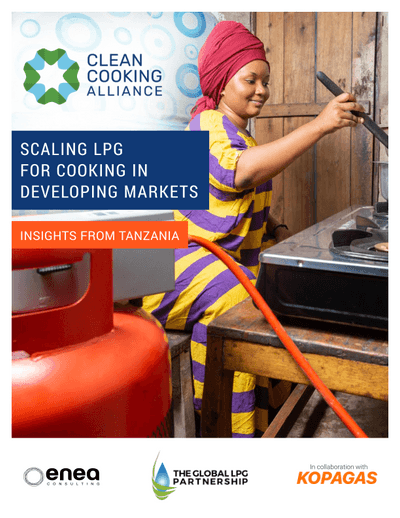 This report aims to provide insights into the various opportunities and challenges associated with LPG as a cooking fuel, drawing on examples from KopaGas' experience in Tanzania, as well as examples from other international LPG markets. It highlights aspects of the market opportunity for investment into LPG supply chains, the need for proper enforcement of LPG regulations, and the benefits of technology in overcoming historical barriers. The report's content is aimed at companies, investors, and policymakers. All play an important role in enabling market growth for household cooking energy solutions.
Nearly 3 billion people, or 40 percent of the world's population, depend on food cooked using traditional fuels such as wood, charcoal, coal, and kerosene — with the highest percentage in Sub-Saharan Africa where 80% of the total population uses such fuels.
This has negative effects on health, the climate, and the environment. It also has economic implications, with consumers spending USD 20 billion on polluting and inefficient cooking fuels in Sub-Saharan Africa in 2010, a figure projected to rise to USD 47 billion by 2020. At the household level, families can spend up to 20% of their total income on cooking fuel.
A commercially viable and context-appropriate transition to cleaner, more modern cooking solutions could alleviate many of these negative impacts and offer numerous socioeconomic advantages. One such alternative is liquified petroleum gas (LPG). As a cooking fuel for households in low-income countries, its availability and affordability, and therefore use, vary significantly by country. Its success is highly dependent on government policies and subsidies, as well as strong private sector engagement and innovation. While biomass stoves continue to be relevant for many consumers in many markets, considerable demand exists for more aspirational alternatives, including LPG, electric cookers, biogas digesters, and biofuels such as ethanol and compressed biomass pellets—particularly where poverty is declining, financial inclusion is growing, and consumers are urbanising. LPG is one viable solution in the transition to fully renewable and emissions-free energy solutions; it is likely to continue to gain traction while other technologies are developed and proven at scale. The scale-up of LPG can be accelerated through subsidies to reduce upfront and ongoing consumer costs; through business model innovation and mobile technology to enable viable distribution economics; and through businesses providing a context-appropriate user experience.
To develop a pipeline of scalable businesses and mobilise public and private sector investment in such businesses, the Alliance launched the Spark+ Investment Readiness program in 2017 to provide technical assistance (and grant funds where appropriate) to financially viable companies that deliver high-impact solutions to meet consumers' needs. KopaGas, one of three businesses selected in the program's 2017 Request for Proposals, has been in operation since 2015, and aims to increase access to LPG for cooking through the reliable supply of gas to dealers via its distribution partnership with one of Tanzania's largest LPG wholesalers, Oryx Energies.
KopaGas also set out to address the high cost of switching from charcoal to LPG through a technology-enabled, pay-as-you-go solution. As part of its Spark+ support, the Alliance engaged Enea Consulting to support KopaGas to refine its commercial strategy and develop a financial analysis to evaluate various business models.