Back
October 2017
Overview of the biomethane sector in France and ideas for its development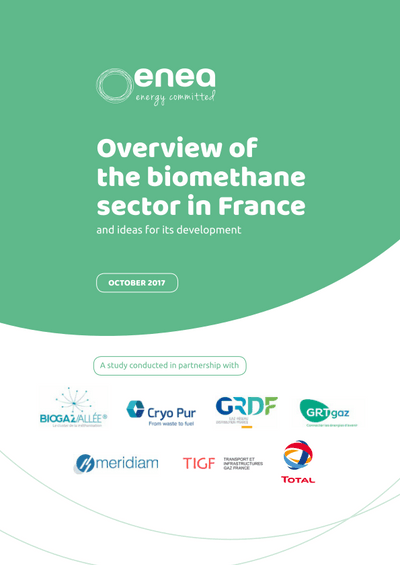 Blunomy (Enea Consulting) and 7 reference partners – Biogaz Vallée, Cryo Pur, GRDF, GRTgaz, Meridiam, TIGF and TOTAL – have published an in-depth study of the French biomethane sector's state of development. This comprehensive and objective overview concludes with ideas to boost sector development.
Launched in 2011, the French biomethane sector is young, dynamic and already competitive. The study coordinated by Enea Consulting identifies several drivers that could enable it to become a sustainable part of the French energy mix.
From an industrial perspective: reduce costs through innovation and the optimisation of technologies and operating practices. The study shows that a 30% reduction in production costs is achievable within the next 5 to 10 years**.**
From a regulatory perspective: progressively adapt the support framework in line with the sector's growing maturity.
From a financial perspective: develop effective financing plans suited to the specifics of biomethane. The study estimates that €10 billion of financing will be required between now and 2030 to continue to develop production facilities.
From an administrative standpoint: simplify the authorisation process to cut project development times.
With a footprint in every region, the biomethane sector offers a wide range of positive externalities, which, when fully harnessed, will help secure the industry's long-term future. In particular, the development of biomethane will make it possible to:
Firmly establish waste management and recycling processes within local circular economies;
Ramp up the development of sustainable mobility solutions in the transport sector through the use of biomethane vehicle fuel (bioGNV), in the form of bioCNG or bioLNG, to improve air quality;
Contribute to local economic development by providing farmers with an additional source of income (90% of biomethane's production potential lies in agriculture);
Attain the greenhouse gas emissions targets set by the Energy Transition for Green Growth Act.
Key elements:*
35 sites are injecting biomethane into the gas grid
315 GWh/year of production, corresponding to the annual consumption of 26,250 households
A tripling of the quantity of biomethane injected into the gas grid since 2015
France was ranked the 5th largest biomethane producer in Europe at the end of 2016
297 additional projects are on the waiting list to be connected to the gas grid, corresponding to an injection capacity of 6.5 TWh/year, i.e. 2% of France's natural gas consumption
A target of 10% renewable gas in French consumption by 2030 (Energy Transition for Green Growth Act).
*End of June 2017
Complementary documents
Etat des lieux et voies de développement du biométhane en France
pdf - French
Etat des lieux du biométhane en France - Communiqué de presse
pdf - French