Back
April 2020
LPG safety, innovation, and market growth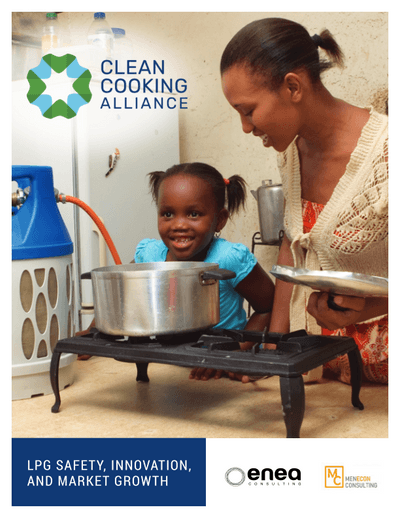 The Clean Cooking Alliance launched the work underpinning this report at its Clean Cooking Forum 2019, held in Nairobi on November 5-7, 2019.
Among the various sessions that took place, "Safety First: Best Practices in LPG" gathered interested industry specialists and other professionals. The overview and key takeaways of the discussion are available in Appendix 1 of this report. In the months that followed, the Alliance, assisted by Blunomy (Enea Consulting) and Menecon, engaged with numerous and diverse stakeholders. Stakeholder insights on the challenges and opportunities around the emergence of technological solutions tackling LPG affordability, accessibility and safety were gathered. This report is the result of that extensive research.
Issues related to LPG safety, both real and perceived, inhibit the uptake of LPG by consumers, slowing potential market growth, and contributing to lack of confidence in return on investment for both investors and companies. Innovative technologies and other potential solutions are emerging that both directly and indirectly alleviate safety concerns.
When robust policies and strong regulatory enforcement are paired with consumer education and awareness raising, the effectiveness and market penetration of LPG technologies is amplified. Prioritising interventions to address safety issues can serve as an accelerant for investment and market growth.
Despite the environmental, economic and health benefits that LPG offers, many households are reluctant to make the switch because of concerns around the safety of handling and using the fuel. Like all other forms of energy, LPG is potentially hazardous if mishandled or misused. Accidents associated with LPG can and do occur, though several studies have demonstrated that LPG is safer in practice than most other cooking solutions, particularly kerosene. Aside from the human suffering and financial cost involved, LPG-related accidents undermine consumer confidence in the fuel. The dramatic nature of some LPG accidents has led to sensationalist reporting, which has stoked public fears about LPG.
Unsafe practices around LPG can impede investment flows, business growth, commercialisation and market entry. For LPG businesses and large multinationals in particular, the risks and costs associated with LPG safety has reduced appetite for the sector, thereby reducing the uptake of LPG, particularly in sub-Saharan Africa. Ensuring effective safety best practices is critical, in order to build a dynamic and financially sustainable clean cooking industry, for both LPG and other clean cooking fuels. New innovations that can make LPG more affordable while addressing safety concerns have the potential to spur private sector investment.
Addressing issues related to safety can both accelerate and hinder the growth of LPG as a widespread and viable clean cooking fuel. LPG businesses, concerned about safety, may choose not to invest in LPG given the cost of managing safety challenges and reputational risks. Strategies that prioritise safety considerations are complex. To be effective, safety standards and precautions must be adopted by organisations throughout the value chain.
Specifically, there are safety considerations at each stage of the journey along which an LPG cylinder travels: from the cylinder factory, to the refilling plant, to the final household end user. Safety is also important in the supply of the fuel itself, from the import terminal, refinery or gas-processing plant to the refilling plant. At each stage, there are safety risks – notably in refilling cylinders, transporting them to local distributors and then customers, and using them in the kitchen.
It is vital that all stakeholders involved in the distribution, regulation, and consumption of LPG have a clear view of the various safety challenges and potential mitigation measures to encourage increased fuel use and investment in supply networks.
The report analyses the following topics:
The challenge behind developing safety frameworks and improving enforcement
The technical innovations overcoming safety issues, as an effective complementary approach to regulation, education and training
The requirement of more R&D and scaling-up of these advanced innovations to make them more affordable on a larger scale.