Back
April 2020
Integrating impact in infrastructure investment activities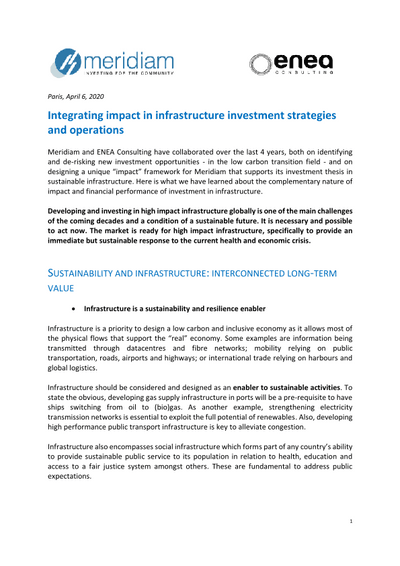 There has never been a more meaningful time to integrate impact into infrastructure investment strategies and operations, and it has never before been more necessary to invest in more resilient assets for cities, communities, and future generations. Today we are sharing our roadmap to meeting this critical yet realisable challenge.
Over 4 years, Meridiam and Blunomy (Enea Consulting) have collaborated on both identifying and de-risking new investment opportunities – in the low carbon transition field – and on designing a unique "impact" framework for Meridiam that supports its investment thesis in sustainable infrastructure. Infrastructure is a sustainability and resilience enabler and together these represent an interconnected, long-term value for the entire stakeholder spectrum.
The key learnings on the complementarity of impact and financial performance of investment in infrastructure are highlighted below. Read the attached report to learn more on the approach and conclusions.
Developing and investing in high impact infrastructure globally is one of the main challenges of the coming decades and a condition to a long-term sustainable future. It is necessary and possible to act now, and the market is ready for it, specifically to provide an immediate but sustainable response to the current health and economic crisis.
Infrastructure is a priority to design a low carbon and inclusive economy, as it allows most of the physical flows that support the "real" economy (information being transmitted through data centres and fibre networks; mobility relying on public transportation, roads, airports and highways; international trade relying on harbours and global logistics).
Infrastructure should be considered and designed as an enabler of sustainable activities. Developing gas supply infrastructure in ports will be a pre-requisite for ships switching from oil to (bio)gas, strengthening electricity transmission networks is essential to harness the full potential of renewables and developing high performance public transport infrastructure is key to alleviating congestion.
Infrastructure also encompasses social infrastructure which forms part of any country's ability to provide sustainable public service to its population in relation to health, education, access to a fair justice system etc. Such elements are fundamental to address public expectations.
Dealing with infrastructure is a long-term strategy. Infrastructure projects are long-term assets and tend to lock in our choices for 50+ years in many cases. Long-term sustainability targets need to be fully integrated into infrastructure planning and development, and it must be done systematically for all new projects (incorporated like the digital transition with more economic inclusion from day 1).
To encourage a more sustainable economy, significant amounts of capital will need to be deployed to new infrastructure and revamping existing infrastructure, to support the emergence and deployment of sustainable solutions. According to the OECD, $6.9 tn in annual investment until 2030 will be required to meet Paris Agreement targets. As these new investment needs are – by design – aligned with a long-term sustainability agenda, they represent promising opportunities, assuming they can deliver attractive risk-adjusted returns.
We believe this is the case, as sustainable considerations and risk management have a lot in common when it comes to infrastructure investment. Properly designing and assessing projects to meet sustainability goals means thinking far beyond current environmental, social and governance (ESG) practices and obligations, anticipating the full spectrum of long-term risks and opportunities. Considering both the impact that environmental and social changes can have on assets, and the impact these assets have on the environment and society across their life cycle is critical.
Sustainability matters are becoming extremely strategic for investors as they determine the long-term value of these assets. From a risk perspective, facing water shortage on power plants (as already happens to Indian utilities), designing mobility infrastructure that are not adapted to future uses, or not anticipating the carbon value when structuring investment in airports, will very likely affect long-term and total returns. This goes beyond the well-known concept of carbon-intensive stranded assets, as even green assets can become stranded if, for instance, they do not address adaptation considerations.
Societal, market and technological shifts now offer a plethora of unprecedented opportunities for asset managers to achieve attractive returns, deploy investments and deliver higher impacts. Citizens are demanding more action, with new technologies and innovative business models stepping up. We are seeing a strong evolution of financial regulatory frameworks and initiatives from the finance industry.
We need collectively to make sure that these developments are moving in the right direction from an environmental and social standpoint. This means having the adequate toolx to measure and monitor impact. We believe the recent progress showed by the measurement of 'impact" is just the beginning of a major evolution. After having designed a very sophisticated accounting and financial system, we now need to develop a robust accounting system for environmental and social aspects for unlisted assets, starting with infrastructure. It is complex but innovation will keep accelerating as stakeholders seek innovation.
The full article explains the specific lessons that can be shared from two years of intense research, collaboration, and implementation efforts to integrate "impact" in a concrete and ambitious way into Meridiam's activities. Of course, it takes time and requires executive management support, energy, efforts, and money to design such a strategy and to implement it properly. However, we believe players involved in infrastructure investment should consider it as a core business methodology, not a bonus. This is because infrastructure investment and sustainability are now inextricably linked.
Despite significant momentum and progress to date, there is inevitably more work ahead. The full article offers some considerations to ensure continuous progression.
Although effort will be required, based on our practitioners' experience we believe that new approaches and standards can be implemented to assess and monitor positive impacts of infrastructure beyond current practices. This is a demanding path but we believe this journey will assist the industrial community to frame more resilient investments with broad benefits. Our belief in this approach runs deep, and our capacity to translate this from vision to implementation is testament to our level of commitment. Our hope is that this path will lead to a sector-wide transformation, with ESG-SDG impact assessment becoming a mainstream requirement for all infrastructure investment.