Back
March 2017
Energy Access in rural Togo: the relevance of the energy kiosk solution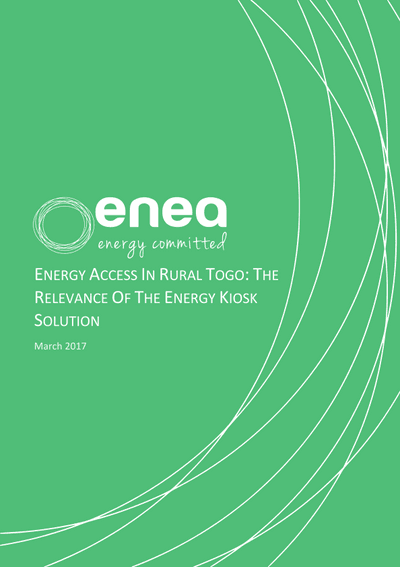 Benoo received pro bono support from Blunomy (Enea Consulting) to develop its solution in Togo. Benoo's goal is to bring electricity to 85 villages of the Prefecture of Haho with the help of tontines (informal groups aimed at agricultural production). The objective of the joint project between Benoo and Enea was to identify the individual and collective energy needs of the rural population in Togo and their capacity/willingness-to-pay; and build the best solution for these needs.
In rural Togo, as in numerous Sub-Saharan African countries, less than 10% of households have access to electricity. Increasing this share is critical for the economic development of these populations. Different energy access concepts are today developed with complementary capabilities to address these issues and bring electricity to households: solar lamp, solar home system, mini-grid or grid extension.
Solar home systems (SHS) represent today a viable and scalable solution to meet basic energy needs (lighting, mobile phone charging) – the first step of the energy ladder – but are much more limited when it comes to offering productive use of energy in rural areas. Productive use of energy is however crucial to develop valuable economic activities in off-grid villages.
Solar kiosk and mini-grids are two potential solutions to meet these productive energy needs. The main difference lies in the distribution network, which requires both investment and maintenance and thus is expensive.
The report outlines some of the main findings of this work including key learnings of the field survey and focuses on the energy kiosk business model.