Back
January 2016
Which business models for mini-grids in Zambia?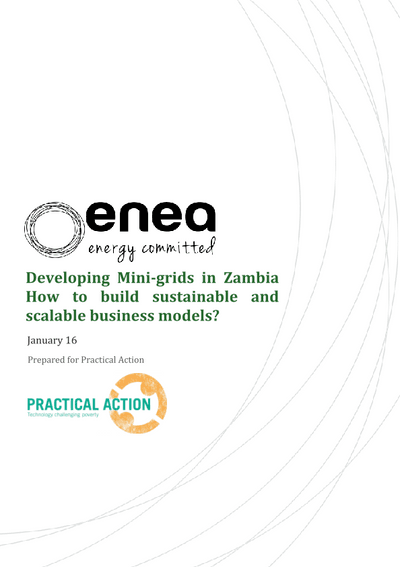 Mini-grids will be one of the key solutions to supply electricity in rural Zambia, as in many sub-Saharan African countries. Blunomy (Enea Consulting) supported the NGO Practical Action to shift the emphasis on sustainable business models for mini-grids. The outcome of this work is to be shared among all relevant stakeholders, including public and private organisations as well as financing institutions.
Going beyond community-based mini-grids
As part of this study, key learnings are derived from a selection of micro-hydro mini-grids, implemented by Practical Action or other organizations in Zimbabwe, Malawi and Zambia. The various difficulties identified make us believe that the mainstream community-based mini-grid models are not suited to tackle the various rural electrification challenges.
Involving private organisations in a structured mini-grids program
A new model must be built. Our point of view is that involving the private sector is necessary to overcome the sustainability issues hampering the community-based models. To successfully do so, Enea and Practical Action propose guidelines to lower regulation and profitability barriers and thus allow the development of mini-grids in Zambia. Main recommendations include:
Improve mini-grid's financial profitability through stronger revenues. Supporting the customer side to increase electricity consumption and so optimise the load factor is a priority.
Improve mini-grid's financial profitability of mini-grid through cost decrease. Clustering mini-grids should be the most efficient way to significantly decrease the global cost by aggregating key activities.
Mobilise the appropriate resources and skills. Highly qualified teams, with both technical and management skills, must be involved in these endeavours to successfully manage and operate mini-grids.
Initiate a structured program involving public institutions to foster the development of mini-grids. In Zambia, the currently complex political and regulatory frameworks prevent the involvement of private organisations. We recommend launching a structured program to overcome current barriers, along with an adaptation of the legal framework.